Music: You a Vector Fan? Listen to this Compilation Mix by DJ CheChe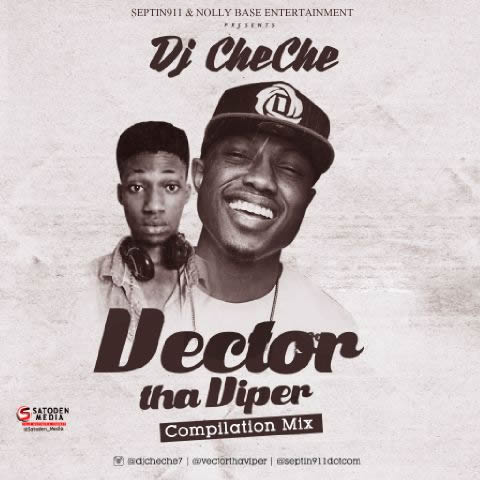 Are you a Vector fan as much as we are? Then you've got to listen to this compilation mix from Nolly Base Entertainment signed Disc Jockey,
DJ CheChe
Arguably, Vector is the best rapper in Nigeria, this mix will remind you of the new and old tracks of the lyricist.
Tracklist
Intro
1. V9 Cypha –
Vector
ft Mode 9
2. Follow me dey go –
Vector
3. Hoto Rmx – Classic ft
Vector
4. Shutdown –
Vector
5. Final note –
Vector
6. Come back – Igho ft
Vector
7. Se won fe ku –
Vector
8. ABO – Mastercraft ft
Vector
& CDQ
9. Where is
Vector
–
Vector
10. Mary Jane –
Vector
11. Mary Jane –
Vector
ft Ade piper,
General Pype
12. Nothing – Reminisce ft
Vector
13. Wasted –
Vector
14. Baba alago –
Vector
15. 8 –
Vector
16. I send them – Dialect ft
Vector
17. Tupac Bass –
Vector
18. Prey –
Vector
19. On fire –
Vector
20. I'm exclusive – DJ exclusive ft
Vector
21. Emi –
Vector
22. Shayo Rmx – Bigiano ft
Vector
, et all
23. Na U –
Vector
ft
Muno
24. Closer – Yunggrace ft
Vector
25. What's that –
Vector
26. We're made oh –
Vector
27. Shiga –
Vector
ft
Toolz
28. Celestial body –
Vector
29. The police –
Vector
30. Slow feeling –
Vector
31. Tuwo –
Vector
32. Happy People – Ayuba ft Tm9ja,
Vector
33. Alright –
Vector
34. Redefined –
Vector
35. King Kong –
Vector
36. King Kong cover – Sanvelly
37. King Kong –
Vector
ft
Sarkodie
38. King Kong –
Vector
ft Phyno, Reminiscence, Classiq, Uzi
39. Medicinal –
Vector
40. @djcheche7
For Promotions/Advert Placements/Video Directing/Booking of Models & Vixens. Contact us Today on:
Whatsapp/Calls:07064827061